Homophobic backlash forces Corinthians' Emerson to apologise for kissing a man
konknaijaboy | On 03, Sep 2013
Football still seems a long way off accepting gay footballers without prejudice if the past few days in the life of Emerson Sheik are anything to go by.
The Corinthians 34-year-old striker, who has scored two goals in eleven games this season, had an Instagram picture go viral in the past few days after it showed him kissing another man on the lips.
The image spread like wildfire on social media sites, and on Monday a group of fans showed up at the Corinthians training ground with banners condemning the kiss.
The actual background behind the image was innocent.
The picture was taken on Sunday night as Emerson Sheik, his girlfriend and some other friends went out for dinner.  The other man in the image is the the restaurant's head chef Izac Azar, who is a close friend of Emerson, and the snap was taken for fun.
Yet with so much hatred arrowed in his direction, Emerson Sheik has issued an apology for kissing a man.
Football is a very macho world. I want to make it absolutely clear that I have not done anything to offend anyone. If someone felt otherwise, I'm sorry. This was Emerson the person, not Emerson the footballer.
I'm very fond of Izac, which means a lot to me. His wife is nine months pregnant. The fans reacted in a negative way. They responded with prejudice, he says.
Pictures of the homophobic banners held up at Corinthians on Monday can be seen below.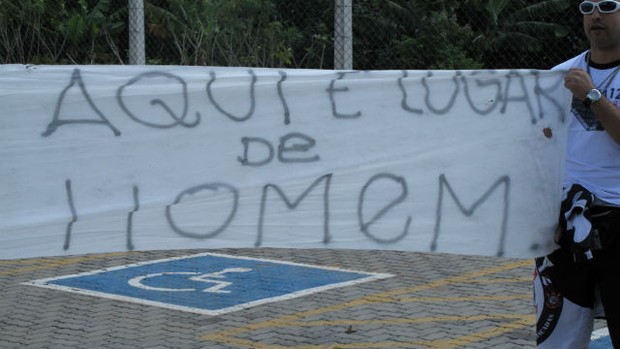 Related articles